Tournaments and championships
You wish to participate to tournaments sanctioned by BAMQ ?

Classique des Basques
La Classique des Basques will be hold on September 16th, 2023 at parc Leber (Montreal)
Final B Marc vs Mathieu (winner)
Final Open Benat Urrutia vs Sylvain Duboué (winner)
Annual General Meeting
Welcome to Mr Vincent St-Amant for his position on the Board of BAMQ.
2023 Canadian Handball Championship
The Quebec athletes offered great performances during the Canadian Handball Championships held in Calgary last weekend. Indeed, Raphaël and Jérôme Santerre as well as Vincent St-Amant helped maintaining the excellent reputation of Quebec handball players.
Raphaël, with his partner Niall O'Connor from Vancouver, distinguished himself by winning the Men Doubles title by defeating Jérôme and Vincent in the Men Open bracket final (21-9, 21-19).
As for Jérôme, he reached the Men Open Singles final losing to the same O'Connor by the scores of 21-9 and 21-11.
Congratulations to these top athletes.
Canadian legend Danny Bell won the title at the 2022 Albany Open
Which took place in the middle of November at Albany's Colonie Court Club.
During this event pitting the best players from Canada against the best from the Northeast of the United States, we had a Canadian final between Danny Bell and his protege Jerome Santerre.
Results :
SEMI-FINALS
Victory for Bell (CA) against Saint-Amant (CA): 21-16, 21-8
Victory of Santerre (CA) against Sayed (USA): 21-6, 19-21, 11-5
FINALS
Bell victory against Santerre (CA): 21-16, 21-12
We have moved to the Maison du loisir et du sport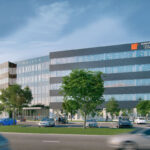 Here is our new address:
Balle au Mur Quebec
7665, Blvd. Lacordaire
Saint-Leonard, QC H1S 2A7
Another great collaboration between the CWM and 

Balle au mur Québec – BAMQ

. At Mohawk Park in TMR, tennis and wallball players will share these courts! Thanks to Anne Frédérique Bayard of BAMQ and Chris Mandelos of Town of Mount Royal for guiding us in this project. Now, let's go play!
Become a member or renew your BAMQ membership.
It is with great pleasure that we provide you with a link to an excellent movie from Ben Thum titled 2000 Alley Cracker, The Story Of Handball. You will find a nice coverage of the history of our beloved sport and of some legendary athletes.
You and the ball from Joey Traa on Vimeo.
BAMQ offers the following products in order to better prepared when activities resume. Be ready now!
Bandana ajustables
30$ (taxes et livraison au Canada incluses)
Tissu traité ViralOff® antimicrobien
Gaiter 12 en 1
25$ ou 5 pour 115$ (taxes et livraison au Canada incluses)
If interested, contact us at
info@sport-4murs.q.c.ca
. Payment by Interac e-Transfer® or cheque to Balle au mur Quebec