2022-2023 Official schedule
No matter what your age or level, there is a ball event on the wall for you. Check out the calendar of the season and sign up to participate!
2022-2023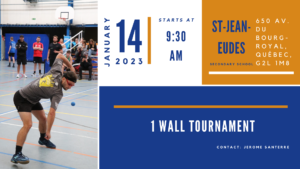 WallBall Quebec invites you to a one-day tournament on January 14, 2023 !
Gather at Saint-Jean-Eudes school for a day of wall ball from 9:30 am until late afternoon. 2 matches guaranteed in this tournament offering you participation in the open category as well as in a drop-down match. Prize will also be given to winners of the open category and drop-down matches.
A registration fee of $20 must be paid on the day of the tournament. To register, please send your name and confirmation of participation to the following email: Jeromesanterre3@gmail.com
Hurry up! Limited places are available. You have until December 30 to register.