2022-2023 Official schedule
No matter what your age or level, there is a ball event on the wall for you. Check out the calendar of the season and sign up to participate!
2022-2023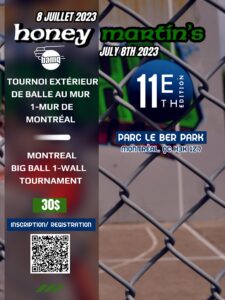 To all handball enthusiasts,
We are pleased to invite you to the 11th edition of the Honey Martin's big ball- 1-wall outdoor tournament. The event will take place on Saturday, July 8th, 2023 at Le Ber Park in Montreal.
The deadline for registration is July 1st, 2023.
We are looking forward to welcoming you and sharing a good time with you during this outdoor tournament. Come and enjoy the summer, friends, and sport in a relaxed and friendly atmosphere.