Denis Gingras
(Inducted in 2021)
Athlete
Denis has been involved in handball for over 40 years as a high level player and has also dedicated his time taking responsibilities within BALLE AU MUR QUEBEC for many years. Denis started his career at age 17, long hair falling down his shoulders with an attitude. He was so skinny he looked like a T-shirt hanger. He was playing handball at the CEGEP in Ste-Foy on courts of 18 feet by 16 feet with a ceiling 15 feet high. The name of the game was simple: serve and kill the ball. Several years later (Edmonton 2006), Denis won the world title in the Veterans Singles Division  usibg the same strategy. Before being recognized at the world level, Denis "Toto" Gingras demonstrated his excellence in numerous tournaments winning here and there national, provincial and open championships in Canada and the United States either in singles or in doubles events. Living in the shadow of Danny Bell, his training partner, Denis was for many years Quebec's best well-kept secret. Low profiled, consistent, disciplined and in great physical shape despite being taken out of the game due to a serious back injury. He returned to the game to achieve the best performances of his life as an athlete. Note that until the end of his forties he still participated in the open events of tournaments and outweighed very good players half his age. Denis is an asset to handball on and off the court. Denis also has been instrumental in organizing tournaments and is considered as a high level referee. He has been involved in coaching junior players and supporting them in competitions. Denis is a very good example of the amateur part of handball by giving more to a sport than receiving from it. On top of that Lucie Gauthier, his long-term partner in life, is also a fair level of handball player.In conclusion Denis truly deserves this nomination to the Hall-Of-Fame. Congratulations from all Quebec players.
Here is a short list of his handball performances:
World Championships:
2006 Men Veterans Singles – Champion (Edmonton, Alberta)
2009 45+ Singles – Finalist (Portland, Oregon)
Canadian Championships:
1988 Open Doubles – Finalist (Edmonton, Alberta)
1989 Open Doubles – Champion (Regina, Saskatchewan)
2007 Senior Doubles – Finalist (Montreal, Quebec), 2008 Senior Singles – Finalist (Calgary, Alberta)
2009 Senior Singles – Finalist (Winnipeg, Manitoba)
2010 Masters Singles – Champion (Burlington, Ontario)
2013 Masters Singles – Finalist (Winnipeg, Manitoba)
2019 Master Doubles – Champion (Laval, Quebec)
Other tournaments:
1985 Maritimes Open, Open Singles – Champion (St-John, New-Brunswick)
1989 Manitoba Open, Open Singles – Finalist (Winnipeg, Manitoba)
1990 Manitoba Open, Open Doubles – Champion (Winnipeg, Manitoba)
1991 Quebec Open- Open Doubles – Champion (Quebec, QC)
2001 Albany Open Master Singles – Finalist (Colony, New-York)
2002 Boston Open – Open Singles – Champion (Boston, Mass.)
2003 Albany Open – Open Singles – Finalist (Colony, New-York)
2018 Albany Open – Masters Singles – Champion (Colony, New-York)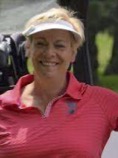 Diane Vallée
(Inducted in 2019)
Athlete 
Diane Vallée has made a great impression on the Quebec handball scene thanks to her athletic performances.
Diane, after making herself a name in provincial roller skating competitions, entered the handball world over 30 years ago.
From the start, her determination, her competitive skills and her desire to improve prompted handball enthusiasts to notice this athlete who strived for excellence in every game.
First on the provincial scene, then in national and international tournaments, Vallée's name was part of the conversation.
In 1988, she won the Women Open Singles "B" title at the USHA National. As of 1990, there are the Canadian titles in Singles and Doubles to be added to her list of wins.
In 1991, she reached the Women Open Singles at the World Championship as a finalist against Anna Engele in Phoenix, Arizona. Another Canadian Singles title will be added to her record in 1992.
In 2015, a world title at the World Championships in the Women Masters category (Calgary, Alberta) confirms her long-term career.
Diane continues to play handball regularly while indulging in her new passion, golf.
Diane Vallée is now a member of the Canadian Handball Association Hall-of-Fame and this honor is well deserved.
Danny Bell
(Inducted in 2014)
Athlete
The best ever Canadian Handball player has been recently inducted into the Canadian Handball Hall of Fame. During the last Nationals banquet on May 17th, Danny Bell has been honoured by the C.H.A. in the presence of his family and his friends for his glorious career.
He was just 12 years old when he played in his first Nationals in St.John's, New-Brunswick. Forty years later, he made the semis in this year Canadian Open and he made the final in the Canadian Closed. He has been twelve times Canadian Champion, once a Pro-Stop winner in Atlanta and twice World Champion in doubles. He did that with dedication to his sport and because of his skills and ability, his anticipation, his quickness. All over the world where he played, he has been appreciated for his sportsmanship, his fair play. He has always been a top ambassador for Quebec and Canada.
Danny has always recognized the support of his trainers and his partners. For decades, he has been a role model for lot of young handball players who were anxiously expecting to beat him once in the court.
For every Quebec Handball player, Danny has been and still is our forever champion. He his now part of the legend.
Congratulations Danny!
Alain Pélissier
(Inducted in 2012)
Builder/Contributor
Many ingredients lead to the success of a sport : player development, good referees, qualified coaching, appropriate facilities, sound administration and passionate people who guarantee its evolution. From 1973 Alain contributed to all those aspects of the game. His input at all levels (regional, provincial, national and international) grants Alain a well-deserved induction to the Canadian handball Hall of Fame. His influence inside and outside the court has made him a mentor for many players. The world of handball really needs other Alain Pélissier to promote the evolution of our preferred sport.
Denis Gingras and Donald Côté
Marcel Ponton
(Inducted in 2009)
Athlete
Marcel Ponton, born February 1st, 1932, is a living legend in the Province of Quebec.
Totally dedicated to handball for more than 45 years and recognized as a great athlete in many sports. Marcel has played at a high level of competition in golf, table tennis, badminton and amateur wrestling.
As well as being a handball champion, he brought to the perfect game a gentleman's approach in the 50's and 60's . His attitude in and off the court has been a model for many. He was the first handball player in the province to travel abroad to challenge players from other provinces and the US. He dominated the handball scene for many years in singles and doubles. His creativity brought a new approach to the game. Marcel was much like a Stuffy Singer, who made a profound effect on handball in the province. He has been a great ambassador to handball and surely deserves a place in the CHA Hall of Fame. He was ahead of his time in travelling extensively to improve and experiment with his game. On his return to the province, he would share his experiences with his fellow handballers and encourage them to travel and expand their games.
12 time Open Singles Quebec Champion.
10 time Open Doubles Provincial Champion with Andre Lortie.
1976 Quebec Open Singles Champion over Alphonse Brisindi.
1979 Canadian Open Masters Singles Champion over Dinty Moor.
Congratulations Marcel !
Donald Côté
(Inducted in 2008)
Builder/Contributor
Donald has been the Quebec provincial coach from 1979-1989 and Canadian coach for the 1988 World Championships held in Australia. He not only trained players in his own province, including Danny Bell, Kathleen Bedard, Denis Gingras, Pierre Desruisseaux  and others, but also American players.
He held the position of Vice-President of the Canadian Handball Association and also found time to help organize several Quebec Opens and National Championships that were held in Quebec City. He held a variety of handball camps for upcoming players and even found time to organize and execute outstanding referee clinics for all ages.
Donald has been a major contributor to Canadian and provincial handball. In addition to his major role in developing handball in Canada, one of his main achievements was to have Canadian handball recognized by American players.
Donald's efforts and contributions are still felt today, from players to officials, young and old.
Thank you on behalf of the handball community for your outstanding service and congratulations on your induction in to the Hall-of-Fame.
Kathleen Bédard
(Inducted in 2007)
Athlete
Kathleen Bedard was born in Quebec City in 1953, the second child of a family of six; four out of the six played handball at one point. In her twenties Kathleen was very active in teaching pottery, traveling around the world and physical training. She played high-level racquetball before moving to handball, thanks to the Robert Kendler Family Ball. She had been exposed to the handball world while going on the road to support her husband Donald Cote at handball tournaments. Donald later became her coach and mentor. Kathleen has never done things half-way. Winning handball championships never came easy, requiring fifteen to twenty hours training per week while taking care of her daughter Heloise. Kathleen is now retired after teaching History (got a degree from Laval University) at high school level and delivered courses with her traditional passion. Oh yes, by the way, she is still training on a regular basis.
When Kathleen began her handball career, it was definitely a man's world in the handball courts in Canada. She changed all that simply by showing women can play the Perfect Game with power, speed, grace and intensity. Kathleen led the way, showed how it was done, and opened the door for future women champions in Canada such as Liza Fraser-Gilmore, Lavonah Muloin-Madden, and Jessica Gawley. Following is a list of her outstanding achievements:
World Championships
1986 Finalist Women Open Singles Kelowna, (B.C.)
1988 World Champion Women Open Singles and Doubles (Lisa Fraser-Gilmore) Melbourne (Australia)
Canadian Championships 4-walls Singles
1981 Canadian Champion Singles – (Robin Lazenby) Vancouver (B.C.)
1982 Canadian Champion Singles – (Vicki Brown) Winnipeg
1983 Canadian Champion Singles – (Lucy Joyal) Quebec City
1984 Canadian Champion Singles – (Vicki Brown) Oakville
1985 Canadian Champion Singles – close event
1986 Canadian Champion Singles – (Lucie Marcoux) Montreal
1987 Canadian Champion Singles – (Lisa Fraser) Edmonton
1988 Canadian Champion Singles – (Lavonah Muloin-Madden) Regina
Canadian Championships 4-wall Women Open Doubles:
1986, 1987, 1988, 1989
Canadian Championships 4-wall Mixed Doubles:
1989 Canadian Championships
3-walls Women Open Singles:
1986, 1987, 1988
Regional Tournament Women Open Singles Champion:
Quebec Open: 1985-1987-1988-1989
Ontario Open: 1984-1985-1986
Houston Invitational: 1986
USHA Eastern: 1985
Albany Open: 1985
Vermont Open: 1986-1987-1988
Quebec Province Championships:
Women Open Singles Champion: 1980, 1981, 1982, 1984, 1985, 1986, 1987, 1988, 1989
Women Open Doubles Champion: 1980, 1981, 1982
Other Achievements: 
Women's Handball Commissioner: 1984 – 1987
Sports Canada Certified/Carded Handball Athlete: 1989, 1990
Quebec Regional Sports Elite Nomination
Finalist: 1987, 1988 Handball Singles
Nominee: Teammate of the year Handball Doubles
Charlesbourg Athlete Per Excellence: 1987, 1988